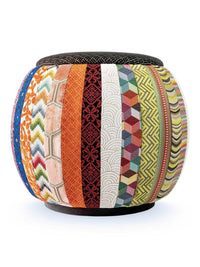 Tala
Spring Capsule 2023
Representing, once again, our multi-cultural obsession of the juxtaposition of East and West with the Queen in her ergonomically perfect glory and unique silhouette.
In crafting this collection, we were deeply channeling our love of love, joy and carrying the flavors of the world. We brought our unique hand-selected fabrics to life with the perfect touch of chic refinement, a bit more embroidery than usual and that cosmopolitan twist still screaming What You Love Is Beautiful.

Highlights: 
Color: Multi Color

Patchwork: Long

Multi Gobal fabric mix body - Black geo design velvet embossed Top

The item you receive may differ slightly from the photograph. This is due to the artisanal nature with which all Maison Mishmashi products are designed but always handworked luxury at its best.
Made in UAE
Designed by Maison Mishmashi Studio
Product Details:
Width: 54cm (Breadth)
Height: 47cm 
Top Seat Diameter: 40cm
Weight: 12kg +/-